Prof. Bandana Jain
Professor
Qualification: B.Arch. (Maulana Azad National Institute of Technology, Bhopal) 1992, M.Arch (School of Planning & Architecture)1998
College/University: Maulana Azad National Institute of Technology, Bhopal, School of Planning & Architecture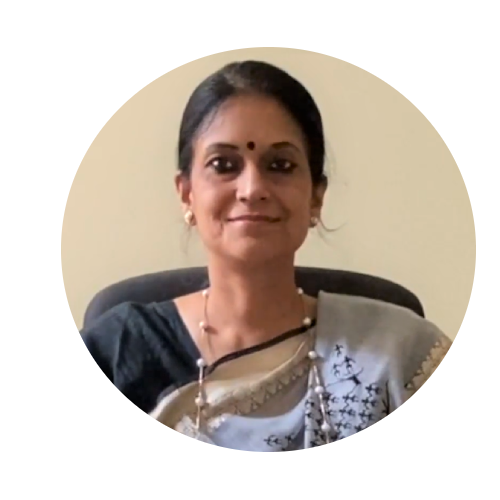 Introduction: Professor Bandana Jain is The Head of Department of Architecture & Planning. She Graduated with distinction from Regional Engineering College, MANIT Bhopal in the year 1992. She did her Master's in Building engineering & Management from School of Planning & Architecture New Delhi.
She has a rich and diverse experience of 23+ years in Architecture, Project Management, Strategic Workplace Planning & Academics. She has worked on many Office Buildings, Commercial Buildings Group Housing Projects, Independent residences & Schools. She has also worked in USA from 1999- 2000 while being based at San Francisco, California.
She has worked in the capacity of Senior Planner and Regional Design Manager with Multinationals firms as Nortel Networks, Jones Lang Lasalle, Nokia Siemens, HOK Canada, KMD USA. While running her own independent practice she did Projects for Military Engineering Services & Housing projects in Dwarka.
Subsequently in an ambition of contributing towards a more meaningful role to the Profession she decided to join academics to fulfil her dream of educating budding professionals. Her academic experience includes teaching as Professor in Guru Gobind Singh Indraprastha University Dwarka, Amity University Noida, Gateway College of Architecture.
She was also a Principal and Professor at Bhagwan Mahavir School of Architecture Sonipat. She has represented The COA many times at Regional Level for Architectural Thesis Excellence Awards. The Thesis she chose at the regional level was selected as the best Architectural thesis for the National Award by the COA in 2015.
She is a fellow at Indian Institute of Architects and has had a paper published in the National Conference on Smart City held by IIA Northern Chapter jointly with other Chapters. Her Participation in developmental activities and Achievements are as listed below.
Participation in Developmental Activities:
Attended Council of Architecture Online Training Program "Advanced Building Services" in 2020.
Attended COA Online Training Programme; Introduction to ECBC' in collaboration with BEE 2020.
Attended GRIHA 3 days' Workshop organised by IIA Northern Chapter in Feb 2020.
Certificate awarded for Participation in Conference on Architects and Smart Cities Mission in 2016.
Published paper in IIA Conference on "Architects and Smart Cities Mission" April 2016.
Certificate awarded for attending Faculty Development Programme At Amity University in 2014
Certificate awarded for participation in one day Seminar on Architectural Education-TurmoilOpportunities-Future Course in 2014.
Trained for about six months in the KMD Architectural Firm in the United States of America in 1999.
Areas of Expertise/ Research Interests:
Workplace Planning & Design, Building Services, Building Management Energy efficient Building Design & Responsive Architecture.
Awards, Achievements and Affiliations or Professional Honours, Prizes, Fellowships, Grant-in Aids
Certified GRIHA Professional, Qualified GRIHA Certified Professional Exam with 88% marks in 2020
Organized COA Student's Awards for Excellence in Documentation of Architectural Heritage 2018
Organizing Team Member in IIA conference on "Women in Architecture in India" June 2015
Member of COA Inspection Committee for grant of Extension of Approval for various Colleges.
Invited as a Jury Member for the Zonal Level shortlisting of Architectural Thesis excellence award entries of the "COA-NIASA Awards for 2016
Invited as a Jury Member for the Zonal Level shortlisting of Architectural Thesis excellence award entries of the "COA-NIASA Awards for 2018
Invited as a Jury Member for the Zonal Level shortlisting of Architectural Thesis excellence award entries of the "COA-NIASA Awards for 2019.
Nominee of Council of Architecture (COA) on the selection committee for selection of architecture teaching faculty at MBS school of Planning and Architecture at Dwarka.
Nominee of Council of Architecture (COA) on the selection committee for selection of architecture teaching faculty at O P Jindal University School of Planning and Architecture at Sonipat.
COA Observer at NATA entrance exam 2017
Affiliations:
Fellow at Indian Institute of Architects
Life member of Council of Architecture
Placement Expert

Talk to Expert