Dr. Ashu Gautam
Associate Professor
Qualification: B.Tech, M.Tech, Ph.D.
College/University: Sant Longwall Institute of Engineering and Technology, Punjab Technical University, MRIIRS,Faridabad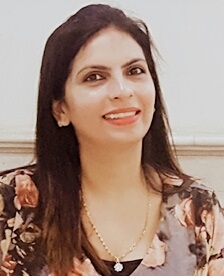 Introduction: Ms. AshuGautam accomplished her B.Tech and M.Tech at SantLongowal Institute of Engineering and Technology (Punjab Technical University, Jalandhar) and is Gold Medallist of PTU and currently submitted her PhD thesis MRIIRS, Faridabad. She has over 15 years of teaching experience in reputed colleges and Universities of Delhi-NCR and had authored and co-authored 20 research papers in reputed journals and International conferences and has 3 patents to her credit. She had been invited to panel discussion held in JamiaHamdard, New Delhi. She has also coordinated various training and placements activities of her department. Her main area of research includes Sensors, Bio medical Engineering, Internet of Things and instrumentation and measurements and has done completed online certifications from University of California on IoT. She is an IBM certified faculty member for several courses: IoT by IBM, Android Application Development. She has successfully completed 10 career counselling workshops held at various places in India. She is also Wipro Mission 10 x certified faculty. She has organised several International and National Workshop like IoT workshop and has been awarded best workshop organizing faculty member award for the academic year 2019-20 at GD Goenka School of Engineering.She has been invited as Session Chair for various International Conferences and also delivered successful session in various workshops held by AICTE.
Placement Expert

Talk to Expert