Dr. Tabrez Ahmad
Dean
Qualification: B.Sc (Combined Hons) (Zoology, Botany & Chemistry), LLM (Commercial Law & Cyber Law), PhD (Cyber Law & IPR)
College/University: AM University Aligarh, India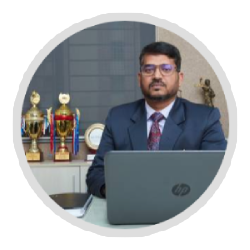 Introduction: Dr. Tabrez Ahmad is currently serving as the Vice Chancellor of the GD Goenka University and Dean, School of Law. Dr. Tabrez Ahmad's expertise is in the area of cyber law, intellectual property rights, energy law, and jurisprudence with a background in commercial law. He has taught these subjects for nearly 21 years at universities such as the W.B. National University of Juridical Sciences (Kolkata), KIIT University (Bhubaneswar), Alliance University (Bengaluru), University of Petroleum and Energy Studies (Dehradun), and Galgotias University (Greater Noida).
Tabrez Ahmad holds a PhD (Cyber Law & IPR), LLM (Commercial Law & Cyber Law); and B.Sc (Combined Hons) (Zoology, Botany & Chemistry) from the AM University Aligarh, India.
Prior to taking up the current role in May, 2020, Tabrez Ahmad served in academic and administrative positions such as Pro-Vice Chancellor and Dean School of Law, Galgotias University; Director & Dean School of Law, UPES; Professor & Founder Director, Alliance School of Law; Founder Director DILS, University of Burdwan; In-charge of the IPR Cell of UPES-UCOST (Uttrakhand Council of Science & Technology); Professor of Cyber Law & IPR at KIIT University; Mentor at Technology Business Incubator, NSTEDB, Govt. of India; and founding faculty at NUJS Kolkata.
Tabrez is founder Technolex Foundation and National President PNGI forum. He is also the Director at Federation of Education Leaders and Administrators foundation, National Vice President of International Council of Jurists London, Chair, Legal Education Section of Indian National Bar Association and Industry Mentor at World Teen Parliament MPs. of Blub World. He is in the advisory panel of various academic and professional institutions of International repute.
A Prolific speaker on Higher Education Systems and Processes, Multi-disciplinary research, NEP, Cyberlaw, IPR & Energy Law. Delivered Keynotes and speaker in more than 100 prestigious International conferences held in, USA, UK, China, Japan, UAE, Egypt, Singapore, etc. He has also practiced for a while at the bar of Delhi High Court and Supreme Court of India. He has authored a pioneering book entitled "Cyber Law, E-commerce and M-commerce", and published more than 100 papers in reputed journals. He is an active blogger, Youtuber, and editor of various International journals. By New York USA based SSRN he is ranked among the Top 100 Law Authors in the World. He is among the IPLEADERS-2019 Top 100 most followed LinkedIn lawyers and has been ranked at 13 in the world. He has been awarded by the APAC News Network 2021 " In recognition of an Exceptional Leader who made a diffrerence, and Extraordinary Contribution in Education Sector. He has been also awarded as the best Keynote Speaker by the SIETIIE 2019 and Awarded "Top 50 IP Players" by IPR Gorilla USA. He is one of the Youngest Vice-Chancellor in the World.
In his substantive current position as the Vice Chancellor of GD Goenka University, Tabrez promotes academic and professional excellence and nurtures empathy to socio-cultural, economic and gender diversity; champions a work environment that draws on the strength of its socio-cultural, economic and gender diversity; prioritises the creation of an ecosystem that is devoid of workplace bullying; fosters the creation of a trusting, non-hierarchical and collegial work culture that stresses meritocracy and a passion for academic excellence; and handholds his teammates to foster changes that would develop the University's goals of achieving best-in-class teaching and learning practices, quality and intensity of research endeavours, International teaching and research collaborations and valuable partnerships with the community and other stakeholders; and operationalise the University's vision to become the best option for students, scholars, faculty, administrative staff, the recruiting Industry and professional bodies.
Placement Expert

Talk to Expert