Dr. Sudipta Sen Gupta
Head- MBA & PGD Programs, Head-Industry Interface & Associate Professor School of Management, G D Goenka University
Qualification: B.Sc Physics (Hons), MBA, PhD
College/University: Presidency College, Calcutta University, F.M.S Delhi University, G D Goenka University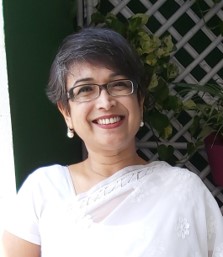 Introduction: Dr. SudiptaSen Gupta has had a career spanning 26 years, where she has been in academia, full-time, for the past 5 years. Over 21 years in the corporate sector, she gained global exposure in the Indian subcontinent, South East Asia, Middle-East, China, Europe and USA by leading and participating in international projects. She worked on senior roles in multinationals like Coca-Cola, Carlsberg, Del Monte and Compaq as well as leading global projects in strategy, research and innovation teams. Further, Dr. Sen been a part of senior management in Café Coffee Day, Inox and Nirula's, heading the companies' business transformation, growth and development efforts.
Dr. Sen Gupta specializes in marketing, strategy, research, planning and innovation, with a deep interest in sustainability, social entrepreneurship and CSR. Currently, apart from fulfilling her roles as a faculty member, she mentors start-ups and is also into management consulting. Her professional competencies have been crafting Business & Marketing Strategy and her academic forte lies in Marketing, Entrepreneurship including Social Entrepreneurship, CSR and Sustainability. Dr. Sen Gupta has been associated as Guest Lecturer and Visiting Faculty at premier institutions across India like IIM Bangalore, IIM Lucknow, IIM Shillong, FMS Delhi University, IIT Delhi, IIT Mumbai, ISB Hyderabad, NITIE Mumbai, Delhi School of Economics, BML Munjal University, Nirma Institute of Management, and many more. She has reviewed academic papers for international journals such as International Journal of Consumer Studies (Wiley Publishers), CSR and Environmental Management (Wiley Publishers) and Journal of Indian Business Research (Emerald Publishers).
In her role as the Head-MBA & PGD Programs the MBA Program has been adjudged as the Best among Emerging Institutes according to the latest Times B School Survey. As Head -Industry Interface Program, she has been organizing Guest Lectures, Industry Visits and International Conferences and Webinars. In her role as a faculty member, teaching PG and UG students and conducting research studies on CSR and sustainability.
Recent conferences:
Sen Gupta, S. (2020, Aug). Human Sustainability? Presented at International Webinar on Sustainability held via Zoom Meetings and broadcast live across India, Dubai, Abu Dhabi, Africa, USA, Sri Lanka, and Bangladesh on Facebook Live.
Sen Gupta, S. and Wadera, D. (October, 2019). Impact of CSR Perceptions, CSR Fit and Cause Affinity on Purchase Intention. Presented at International Conference on Globalization Issues in Business, Management, Marketing & Social Sciences (GBMS-OCT-2019), Paris, France.
Sen Gupta, S. and Wadera, D. (August, 2019). Revival of Corporate Image through CSR Strategy and Communication. Presented at 3rd Thought Leadership Summit on Sustainability and CSR organized by PHD Chamber of Commerce and Industry, New Delhi, India.
Sen Gupta, S. and Wadera, D. (July, 2018). CSR Perceptions and Cause Affinity: An empirical study of Indian consumers.Presented at 8th Academic International Conference on Business, Marketing and Management (AICBMM), Harvard, Boston, USA.
Recent Publications:
Sen Gupta, S., &Wadera, D. (2021). Consumers' decoding of corporate social responsibility dimensions: An application of CSR pyramid model in Indian context. International Journal of Indian Culture and Business Management, 22 (1), 110-136.
Sen Gupta, S., &Wadera, D. (2020). Impact of cause affinity and CSR fit on purchase intention. Society and Business Review,doi: 10.1108/SBR-01-2020-0012.
Sen Gupta, S., &Wadera, D. (2019). Awareness and understanding of corporate social responsibility (CSR) among Indian consumers International Journal of Research and Analytical Reviews, 6(2), 570-587.
Contribution to Profession and Awards :
SoM, GDGU received the Best MBA Program ranking among Emerging institutes according to Times B School Survey, 2021
Reviewer in ABDC "A" category journals such as International Journal of Consumer Studies, 2021
Strategic CSR Communication certificate from UniversiteCaholique de Louvain, Belgium in 2019
Carlsberg Group Winning Behaviour Prize Excellence in Leading Team, 2014
Indspirit Industry Award 2014
Top 100 Marketing Leaders for 2014
BACCIS Award in 2011
AsiaStar Award in 2011
IndiaStar Award in 2010
Café Coffee Day won numerous national and international awards consecutively between 2005 and 2007
Top 25 Young Executives, Business Today 2004
Indira Woman Super Achiever 2004
Placement Expert

Talk to Expert