With the mission to strengthen Industry – Academia collaboration on learning and skilling, GD
Goenka University organized a high-level panel discussion with the senior policy makers and
luminaries from bodies such as NCVET, AICTE, NASSCOM, RedHat and AWS on 20 th April
2023.
The event commenced with the opening remarks from Prof. B. S. Satyanarayana, Vice
Chancellor, GD Goenka University. The eminent panelists in the discussion included Dr.
Nirmaljeet Singh Kalsi, Chairperson, NCVET, Dr. Mamta Agarwal, Advisor, AICTE, Ms. Kirti
Seth, CEO, Nasscom Sector Skills Council, Mr. Vikram Motiani, Sr. Director Training &
Certification, Red Hat, and Mr. Amit Mehta, Head – Training, AWS and Prof. (Dr.) Manish
Prateek, Dean, School of Engineering and Sciences, GD Goenka University. The panel
discussion was moderated by Mr. Asheesh Sabarwal, Head – Industry Partnerships, NASSCOM
Sector Skills Council.
The discussion provided insights on aligning the Tech Industry Courses to the National Skills
Qualification Framework (NSQF). Therefore, to work towards the Digital Skilling mission of
India, the panelists expressed their views on the importance of NSQF alignment for technology
courses. The panelists discussed at length about the significance of national scale skilling to help
India transform into a digital talent hub for the world.
The session concluded with an interactive Q & A round. Dr. Jaspreet Singh, Faculty Incharge,
Computer Science and Engineering gave the vote of thanks.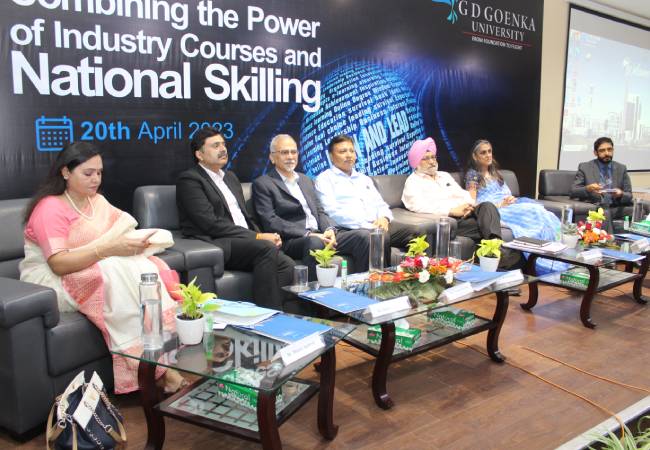 Placement Expert

Talk to Expert