"What is said is not as appreciable as what we hear and what we feel. That is why we make an
effort to experience conference in a setting where the still small voice of the spirit can be
clearly heard, felt and understood."
School of Medical and Allied Sciences, GD Goenka University, organized 4 th International
conference "REACH- Recent Advances & Challenges in Healthcare"; on the theme of "Digital
Healthcare in Post COVID Era" from 22 nd – 23 rd August 2022. This mega event spans for two
days which is conducted every year in the School of Medical and Allied Sciences, GD Goenka
University. .
The conference was a combined event of departments like Pharmacy, Physiotherapy, Nutrition
and Health, Radiology, Cardiovascular Technology, Medical Lab Sciences, Public Health and
Optometry of the School of Medical and allied Sciences.
Mr. Nipun Goenka (Pro Chancellor & MD G D Goenka Group) was the chief patron of the
conference. Prof (Dr.) Tabrez Ahmed, VC, GD Goenka University, was the Conference
Chairperson. Prof. (Dr.) Rohit Dutt, Dean SoMAS and Prof. (Dr.) C.K. Ashok were the
conveners of the conference. Prof (Dr.) Shailendra Bhatt and Prof. (Dr.) Sanjeev Gupta, were the
Co-conveners of the Conference. Dr. Anand Kumar Singh and Prof. (Dr.) Amit Nayak were the
Organizing Secretaries of the Conference.
This International Conference was funded by Science and Engineering Research Board (SERB),
Department of Science and Technology (DST), Government of India
COVID pandemic has challenged our conventional health care system and emphasized the
promotion of digital healthcare to combat the adversities in the post COVID era. The conference
witnessed engrossing discussions among the interdisciplinary scientific community along with
unparalleled collaborative opportunities between a large pool of healthcare professionals both
from academia and industry.
Day 1 Proceedings
The Chief Guest for the Inauguration Session was Dr. Sushila Kataria, Senior Director, Internal
Medicine, Medanta – The Medicity.
The conference commenced by invoking the blessings of Lord Ganesha, followed by the
Welcome note from Prof. (Dr.) Rohit Dutt (Dean – SOMAS).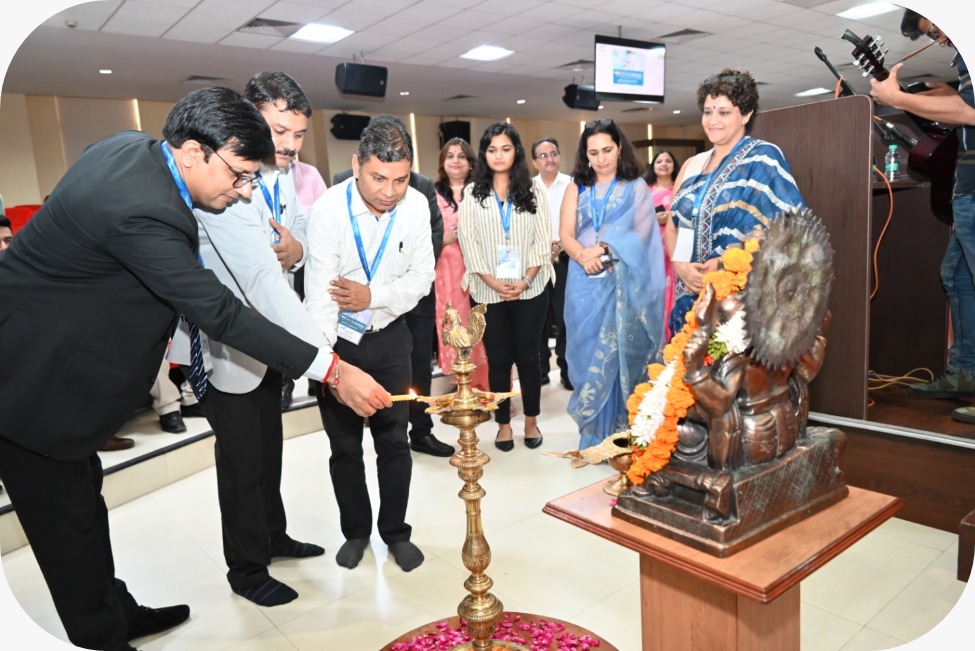 Dr. Bansree Patel, Manager, Clinical Pharmacy Operations, Avanida Innovations Hyderabad,
Mr. Naveen Dubey, Associate Director (Head-Bioanalytics), Jubilant Generics Limited,
Dr. Pooja Sharma, Founder & CEO, APAAR Health
Dr. Deependra Singh, Chairman, Education Regulation Committee, PCI
Dr. Kartik Rakam, Co- Founder Avanida
Mr Amarnath, Diaknow Pvt. Ltd and
Mr. Amol Pandit, Transasia addressed the gathering with a wide spectrum of plenary sessions
and emphasized different ways for embracing digital solutions in healthcare practices.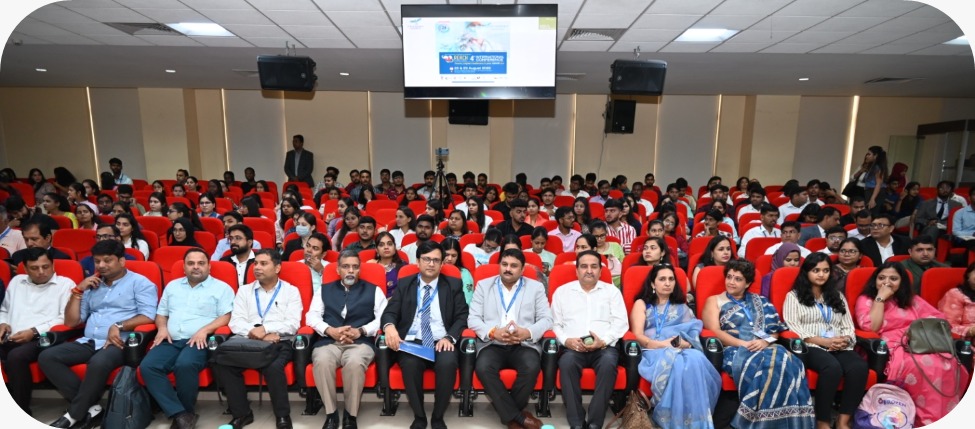 On the side lines of the conference, there was a hands-on workshop on Surface
Electromyography and its applications, which was attended by more than 50 delegates. The
resource persons for this workshop were international faculty: Dr Vernetta Wong, Principal
Physiotherapist and Managing Director, The Physio Studio, Singapore and Dr Dinesh Verma,
Chairman V2U Healthcare, Director of PhysioAsia, Singapore along with Dr. Sanjeev Gupta,
Head, Department of Physiotherapy, School of Medical and allied Sciences, GDGU.
The Proceedings of the Conference were released by Souvenir Launch by Honourable Chief
Guest and Guest of Honor.
Reach 2022 proceeded on day one with an interesting afternoon session of "Chai Pe Charcha"
which was a platform to have highly valuable discussions with some of the successful names in
the Pharmaceutical industry and academia. This discussion over tea brought the best insight
about the topic - Reforms in Pharmaceutical education and Practices. The academic dignitaries
and the industry experts discussed different factors that are accelerating curricular reform within
pharmacy education, including but not limited to accreditation standards, technologic advances,
and student diversity.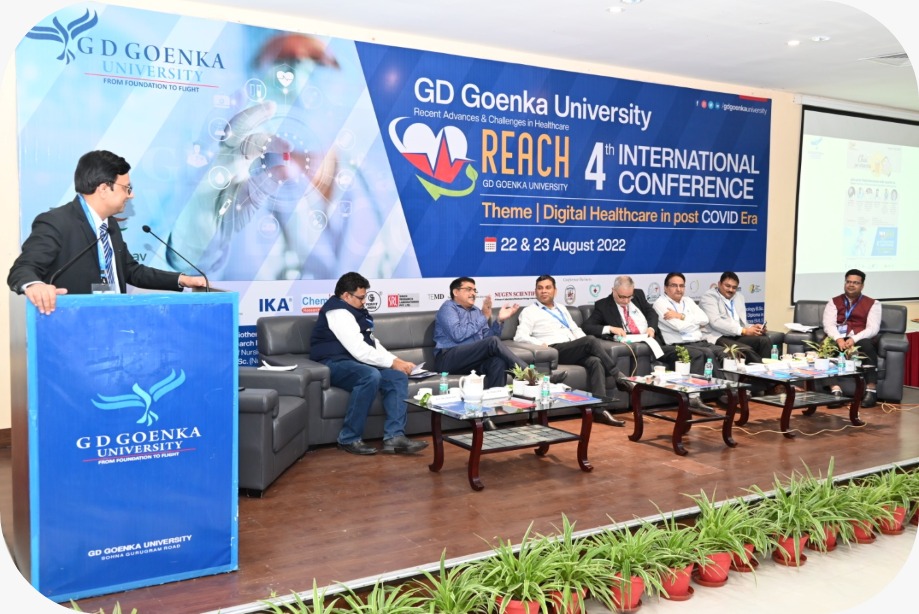 The moderators of the session were
1. Dr. Pranay Wal, Professor and Dean Pharmacy, Pranveer Singh Institute of Technology,
Kanpur.
2. Dr. Akash Ved, Associate Dean Pharmacy, Dr A P J Abdul Kalam Technical University,
Director, Goel Institute of Pharmaceutical Sciences, Lucknow.
Our esteemed group of panelists included
Dr. Deepender Singh, Chairman- Education Regulation Committee and Member Central
Council PCI,
Dr. Vibhu Sahani, Professor LLRM Medical College, Meerut Member- Central Council, PCI.
Prof. (Dr.) Devender Pathak, Dean (Pharmacy) Dr. APJ Abdul Kalam Technical University,
Lucknow, Director- Rajiv Academy for Pharmacy
Prof. (Dr.) Roop Krishen Khar, Director B. S. Anangpuria Group of Institutions, Alampur,
Faridabad
Dr. Naveen Dubey, Associate Director (Head-Bioanalytics), Jubilant Generics Limited.
This session was highly appreciated by the Pharmaceutical Fraternity and it was suggested that
such sessions should be held often to bridge the gap between industry and academia. It was an
outstanding discussion with transparent questions and answers from all the panel members. The
session ended with the felicitation of all Expert Panelists and resource persons.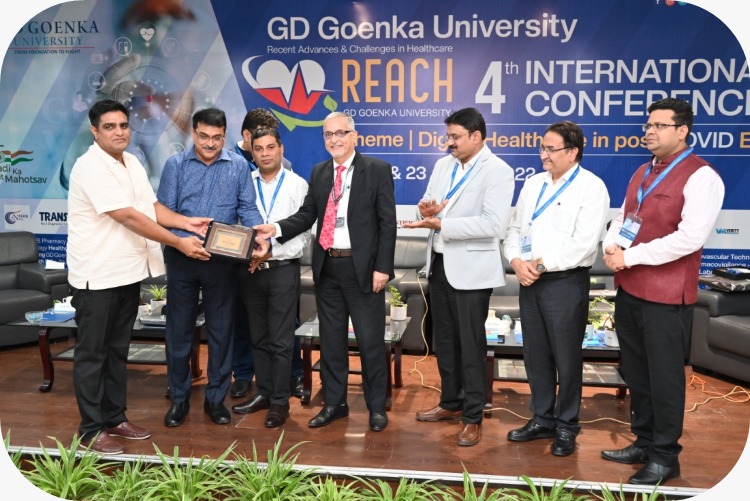 The day 1 of the conference concluded with a felicitation ceremony for the Guests and the
resource persons.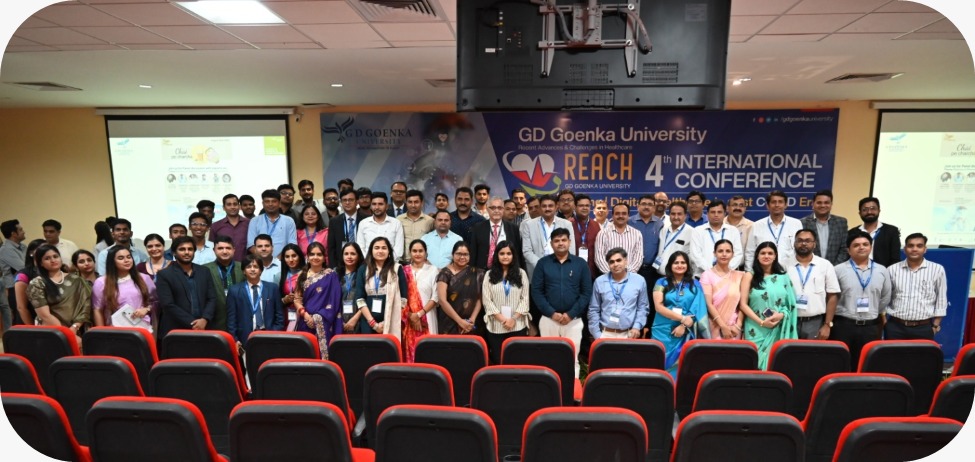 Day 2
Day 2 of REACH- 2022 initiated with the auspicious lamp lighting ceremony by the esteemed
dignitaries followed by Welcome address of Prof. (Dr.) Tabrez Ahmad, Vice Chancellor, GD
Goenka University in which he highlighted the relevance of the theme of conference and
appreciated the efforts of the SOMAS for organizing such a voluminous event.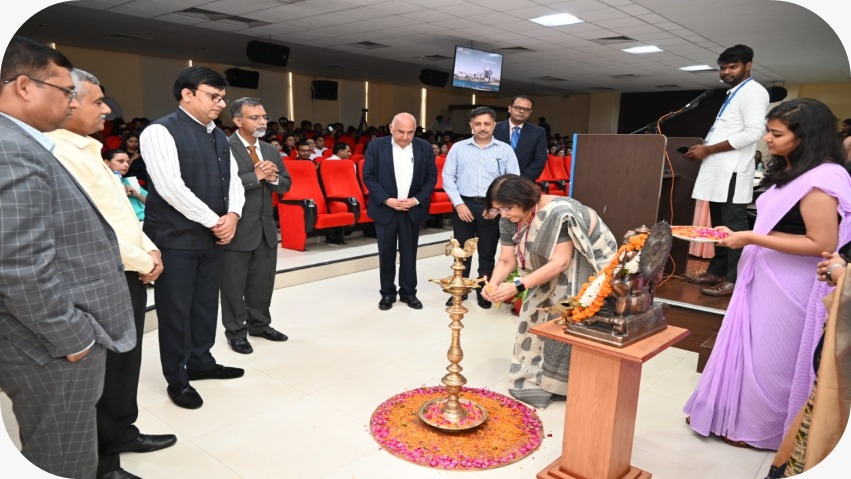 The Honorable guests
Chief Guest Prof. Dr. Ali Irani, Head, Department of Physiotherapy, Nanawati Hospital,
Mumbai,
Guest of Honor Dr. Shekhar Shrivastava, HOD, Orthopaedic Department, Sant Parmanand
Hospital,
Prof (Dr.) Suneela Garg, Director Professor & Head Community Medicine Maulana Azad
Medical College & Associated Hospitals New Delhi,
Dr Pradeep Sarkar, Incharge Physiotherapy, PGIMER, Chandigarh
Dr. Deepti Verma, VLCC Head Pan India,
Dr. Ved Prakash, Senior Consultant Cardiologist, Artemis Hospital Gurgoan,
Prof. (Dr.) Geer M Ishaq, Department of Pharmaceutical sciences, University of Kashmir, and
delivered their keynotes on the theme of the conference Digital Healthcare in Post Covid Era.
The epicentre of Day 2 was the live workshop delivered by Dr. Ali Irani on Pain Management,
in which he guided students that how they can work on increasing the range of the patient for
neck movement to reduce the pain.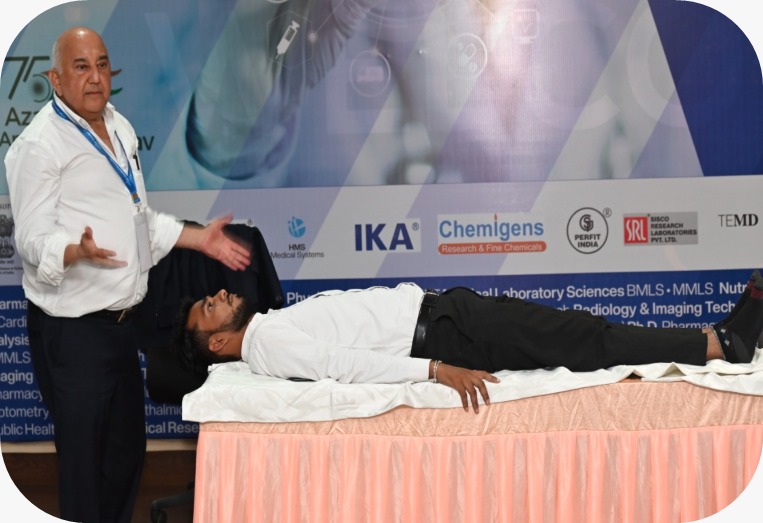 Also an online session on "Digital transformation of Physiotherapy Education and Training –
The Way Ahead" was delivered By Dr. Prue Morgan, HOD- Physiotherapist, Monash University
Australia.
The day 2 ended with the formal Velidectory Ceremony and the chief guest for the same were
Dr. Gajendra Singh, Professor and Dean, Faculty of Pharmaceutical Sciences, Pt. BDS
University of Health Sciences, Rohtak. He felicitated the Best Oral and poster Presentation
award winners and also the Convenors, Co-Convenors and Organizing Secretaries of the
Conference. The Valedictory ceremony ended with beautiful cultural performances by the
students of SOMAS.
The Registered Participants for the Conference were 760, out of which, there were 30
International delegates.
More than 600 scientific abstracts were evaluated and 250 abstracts were accepted and presented
in different scientific discourses of the conference namely publications, presentations and poster
exhibitions.
All accepted abstracts and conference proceedings were published in Reputed Scientific Journal
IJPSR- International Journal of Pharmaceutical Sciences and Research and Indian Journal of
Pharmaceutical Sciences and Research.
The Conference was sponsored by SERB (DST) Government of India, AAPAR Health, HMS
Medical Systems, Daiknow Pvt. Ltd.., ERBA-Transasia Perfit India, IKA, Sisco Research Labs,
Chemigens, TEMD, Bajaj Technovision Healthcare Solutions Scientific Nugen
"The best preparation for good work tomorrow is to do good work today." Going with this
spirit, School of Medical and Allied Sciences, GD Goenka University is determined to deliver a
much more upgraded version of scientific downpour of knowledge at 5 th International REACH
conference to be held next year.
Placement Expert

Talk to Expert