Dr. DakshitaSangwan
Assistant Professor
Qualification: BALLB (Graduation), LLM., Ph.D.
College/University: SHD College of Law, Dr. BhimRaoAmbedkar University, Agra, Kurukshetra University, Jamia Millia Islamia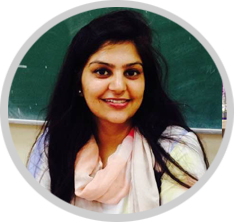 Introduction: She has more than 12 years of experience working in various areas of the legal profession. Soon after completing her B.A.LL.B, she was actively involved in litigation and legal research in the Supreme Court of India, High Court of Delhi, and District Courts of Tees Hazari, Rohini and Rohtak (Haryana). Further, she was teaching 'Women and Child Law' and 'Health Laws' at the Faculty of Law, Jamia Millia Islamia, New Delhi whilst also performing other administrative work responsibilities as a Teaching Assistant in the 2014-15 session. Before joining G.D. Goenka University, she had served as a Legal Research Consultant in the Policy Research, Projects and Programmes (PRP&P) Division of the National Human Rights Commission of India. She facilitated to conduct of the Northern, Eastern and Central Region Consultations towards Third Universal Periodic Review on behalf of NHRC across the country.
Placement Expert

Talk to Expert