Dr. Uzma Rukhsar
Assistant Professor
Qualification: B.A (Hons.) Economics, MBA (HR & Marketing), Ph.D. (Marketing)
College/University: MJP Rohilkhand University (2012), UPTU (2014), Aligarh Muslim University (2018)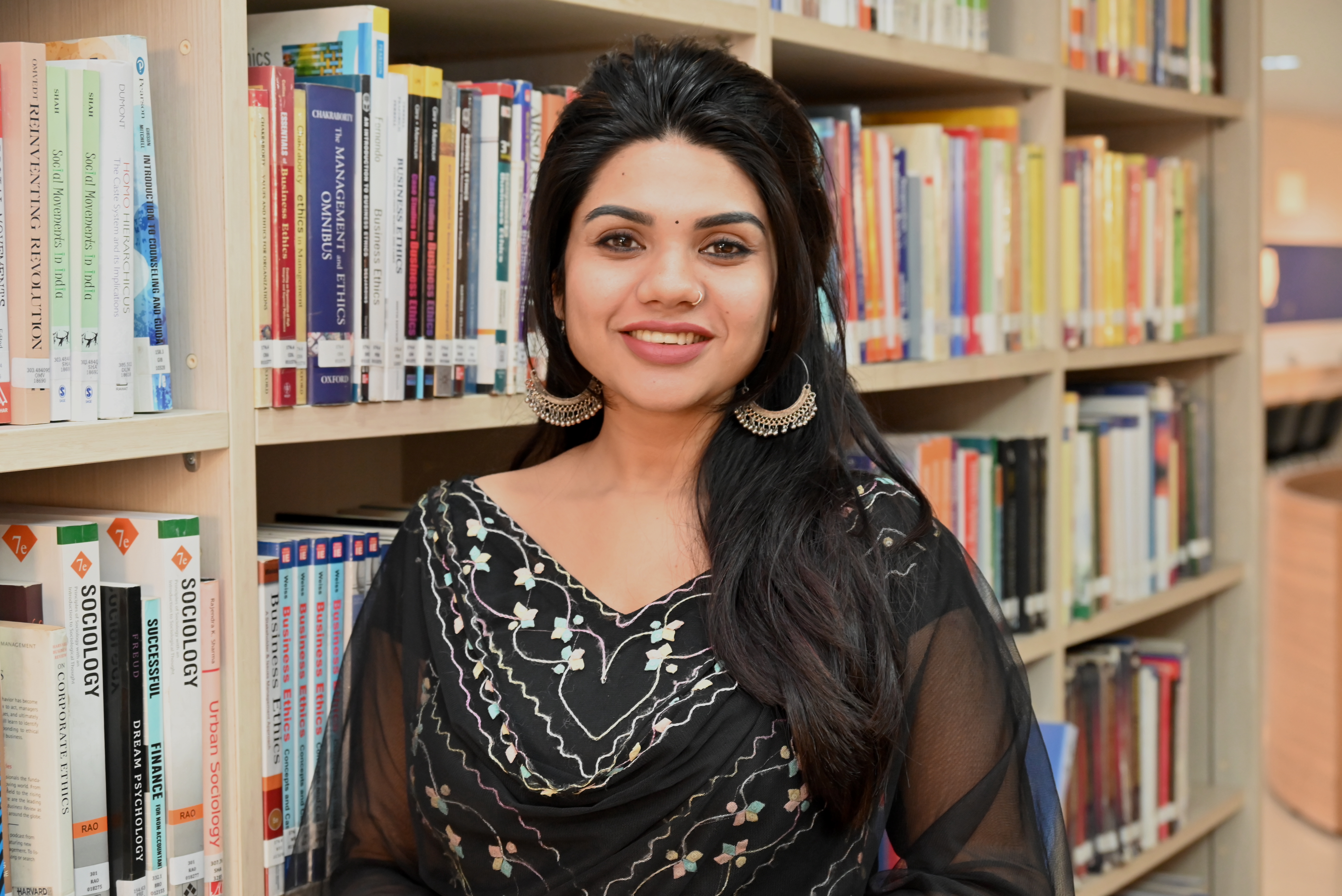 Introduction:
Dr. Uzma Rukhsar brings in more than 5 years of experience from the field of Academia and Research. She has taught Marketing, Business Communication, Human Resource Management, Consumer Behaviour, Business Organisation, Interpersonal Skills and Entrepreneurship to Post Graduate and Under Graduate students of Management and Law. Dr. Uzma holds experience in working with many prestigious management institutes.
Prior to joining GDGU, she has worked as an Assistant Professor in Al-Azhar Institute of Engineering and Management Aligarh, ACET College Aligarh and Assistant Professor (Visiting), GD Goenka University. Dr. Uzma has an outstanding academic record with many International & National Publications in reputed ABDC, Scopus and UGC care journals.
She has attended various national and international conferences, workshops and Faculty Development Programs. She has supervised many UG & PG Students for their research work. And She is also a part of Editorial board of various reputed journals.
Publications
Scholarly Journals
'Sports and Religion- A Hand in Hand Relationship" Journal of Physical Education and Research, Special Issue, 1 (2016), pp. 186-194. (UGC Listed) (Syed Mohd Jamal Mahmood 1 , Uzma Rukhsar 2 2016).
"Advertisements of Electronic Products and its Impact on The Buying Behaviour of Consumers of Aligarh City" International Journal of Current Advanced Research, Volume 7; Issue 7(F); www.journalijcar.org (UGC Listed) (Uzma Rukhsar 2018).
"Role of Advertisements in Contributing to Cashless Economy since Demonetization" 'Scientific Information and Technological Board of Sadhana' 'Universal Review' Vol. 10, Pp- 4-13. www.universalreview.in (UGC Listed) (Uzma Rukhsar 1 , Syed Mohd Jamal Mahmood 2 . 2019)
'Exploring the Security Vulnerabilities of Indian Consumers on using Internet of Things for Personalised Advertisements" SPECIALUSIS UGDYMAS / SPECIAL EDUCATION 1 (43) https://www.sumc.lt/index.php/se/article/view/1185 (Scopus Indexed) (Himani Bhardwaj and
Uzma Rukhsar 2022).
"Socio-economic Determinants of Agripreneurship choice among farmers in Western Uttar Pradesh, India", World Journal of Management and Economics' vol.16, issue. 01 (Farukh, Unar, Nawab Ali Khan and Uzma Rukhsar 2023)
Seminar/Conferences/Workshops Attended/Guest Lecture
Attended National Workshop on "Path to Success" held on 7 th March 2011.
Participated in Workshop on "Entrepreneurship & Youth" conducted by NSIC, Aligarh.
Attended Workshop on "Enhancing Beauty Skills" conducted by "Hindustan UniLiver" Aligarh in February 2013.
Participated in 6th National Conference on Corporate Social Responsibility" held in ABIMS, Aligarh in 2013.
Attended Workshop on "RTI: A tool for good governance and how to use RTI effectively." In 2013.
Attended Workshop on "Enhancing Communication skills." in 2014.
Participated in the National Webinar on "Covid-19 moving forward from now" held in Bora
Institute of Management Sciences 2015.
Attended Webinar on 'Cyber Forensic Audit; Changing Role of Auditors' organised by 'Bharti Vidyapeeth's Institute of Computer Applications and Management' (BVICAM) 2016
Attended National Workshop on "Physical Education and Interdisciplinary
Studies" (NCPEIS) held on February 13th – 14th 2016.
Attended National Seminar on "Cash less Economy: Opportunities & Challenges" held in April 2016.
Attended Faculty Development Program on 'Innovative Approaches in Management Teaching' organised by 'Panipat Institute of Engineering and Technology'
She has also been invited as a Guest Speaker on "Interpersonal Skills" at Vivekanand College of Technology and Management, VCTM, Aligarh.
Presented a paper titled 'An analysis on Security Vulnerabilities on using Internet of Things for Personalised Advertisements in Context of Indian Consumers' at the 5th International Conference on 'Sustainable Development:
Road Map to an Equitable Planet' organised by the School of Management, GD Goenka University.
Placement Expert

Talk to Expert