It is our pleasure to invite you on behalf of "The Center of Excellence", SoHSS, for a one day workshop on "Personality Development & Career Counseling."
The first step to solving a career problem is to bridge the gap between where you are and where you want to be. Choosing a career is an important decision and this workshop will help students in gaining insight into the amount of effort required and what they can do to face competitive career paths.
The expert will walk you through the strategies to prepare for competitive examinations such as NET / Civil Services / Examinations for higher education and other prominent professions.
The details of the Programme are as follows -
Date – 4th May 2022, Wednesday
Time – 10 am – 4 pm
Venue – Block- B, Auditorium, GD Goenka University
We eagerly await your participation in the workshop.
As a part of the 3-Week Training and Capacity Building Program- Day 7, 20-07-2022, Prof. (Dr.) Anjali Midha, Dean, Research and Development & SoHSE led a session on Effective Practices in Supervising Doctoral Candidates. The session was moderated by Ms. Igona Gorakhnath, Assistant Professor, GD Goenka University.
Dr. Midha spoke about the Ph.D. program guidelines at the university. She extensively touched upon the importance of creating a partnered relationship between scholars & guides. She explained the different models of research supervision. Also spoke about the university's code of ethics & academic integrity.
As a part of the 3-Week Training and Capacity Building Program- Day 9, 22-07-2022, Ms. Shubham Thukral, (Clinical Psychologist, Rehabilitation Council of India,) led a counseling session to inform faculty members about the objectives and facilities of the Psychological Services Centre at the University. The counseling process and essential details of how sessions are structured were discussed. Following this, a specific case discussion was held to explore the perspectives of the participating members. The student counseling session focussed primarily on educating faculties about various sources of non-cooperation, resistance, and poor impulse control often witnessed on campus. Remedial solutions were discussed to manage non-cooperative students and inculcate a sense of resilience. Important aspects of the faculty-student interactions like empathy and trust were discussed with suitable examples to bridge the "mistrust gap" that students and faculties feel mutually. Empathy in teachers as counselors was emphasized as a key catalyst in building meaningful teacher-student relationships. Drug Addiction, substance-related concerns, and disciplinary issues (physical and verbal confrontations) was briefly discussed. Neurological conditions like learning disabilities & adult ADHD leading to poor academic performance & emotional and behavioral issues were also highlighted to orient faculties towards the incidence and prevalence of neurological deficits in adults.
The session was moderated by Dr. Agniva Pal, Assistant Professor, GD Goenka University.
As a part of the 3-Week Training and Capacity Building Program- Day 12, 25-07-2022, Dr. Imran Amin, Associate Professor – of Political Science, led a wonderful session on Internal Quality Control and External Quality Assurance.
Dr. Amin spoke about looking at the institutional mechanism to ensure Quality of Education in teaching and learning practice. In order to pursue the same, he walked the audience through the 'National Assessment and Accreditation Council (NAAC) with the primary responsibility to instill "Quality Consciousness" through internalization of "Quality Culture" through the institutionalization of best practices. In order to pursue the above mandate, NAAC has constituted Internal Quality Assurance Cell (IQAC) The session addressed numerous dimensions of quality sustenance and assurance – the role of Learning Outcome (LO), Program Outcome (PO), and Course Outcomes (CO) in ensuring that.
The session was moderated by Dr. Mohit Sanduja, Assistant Professor, GD Goenka University.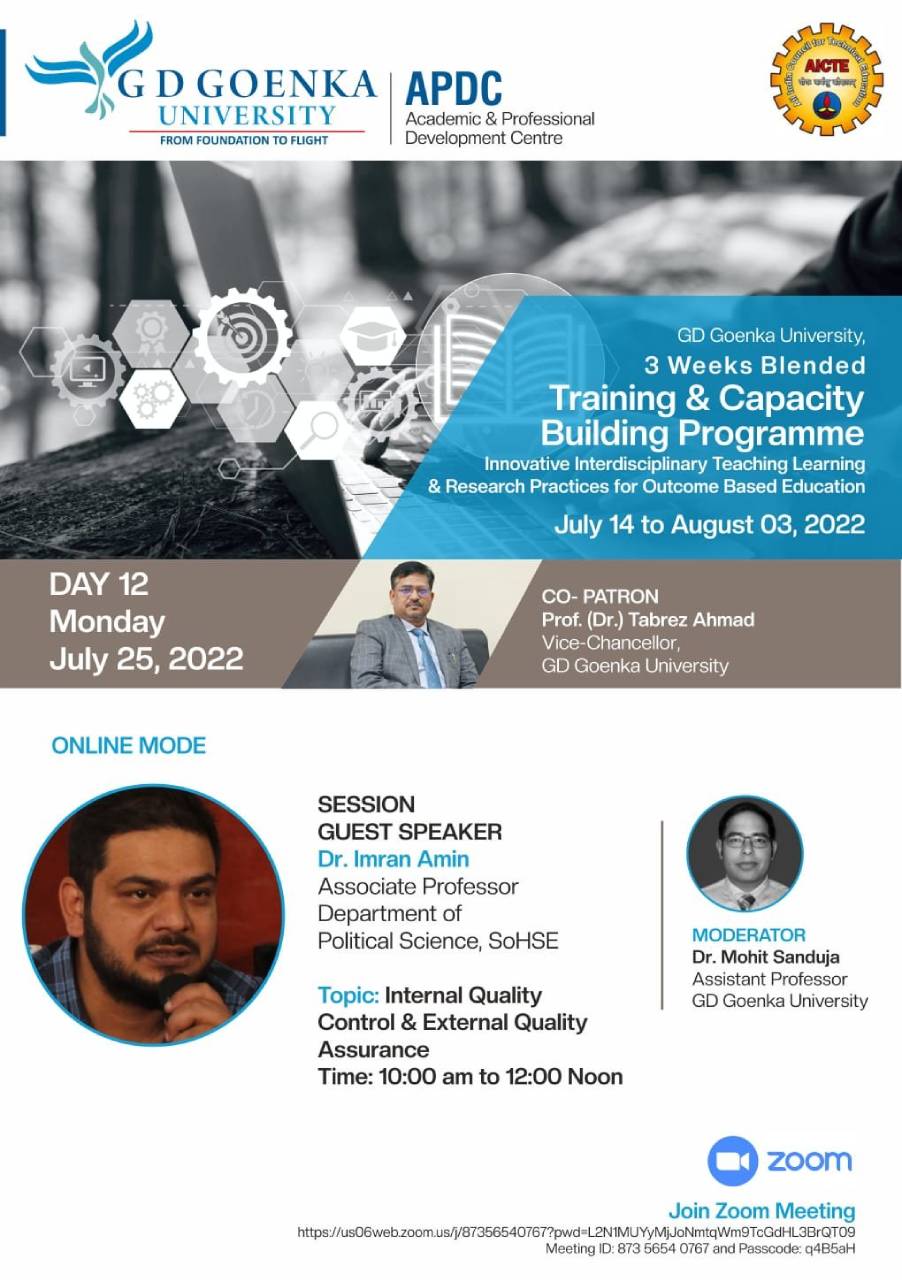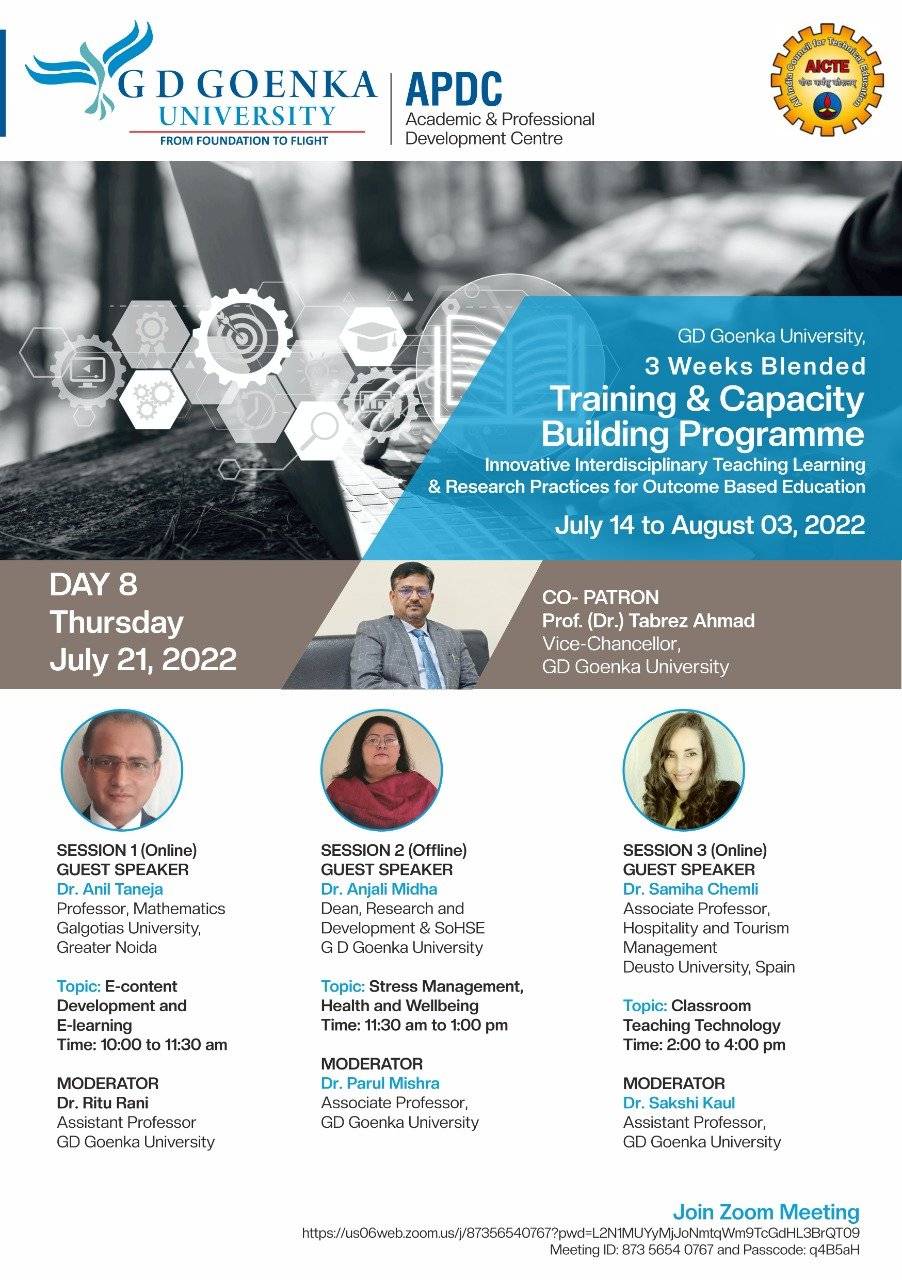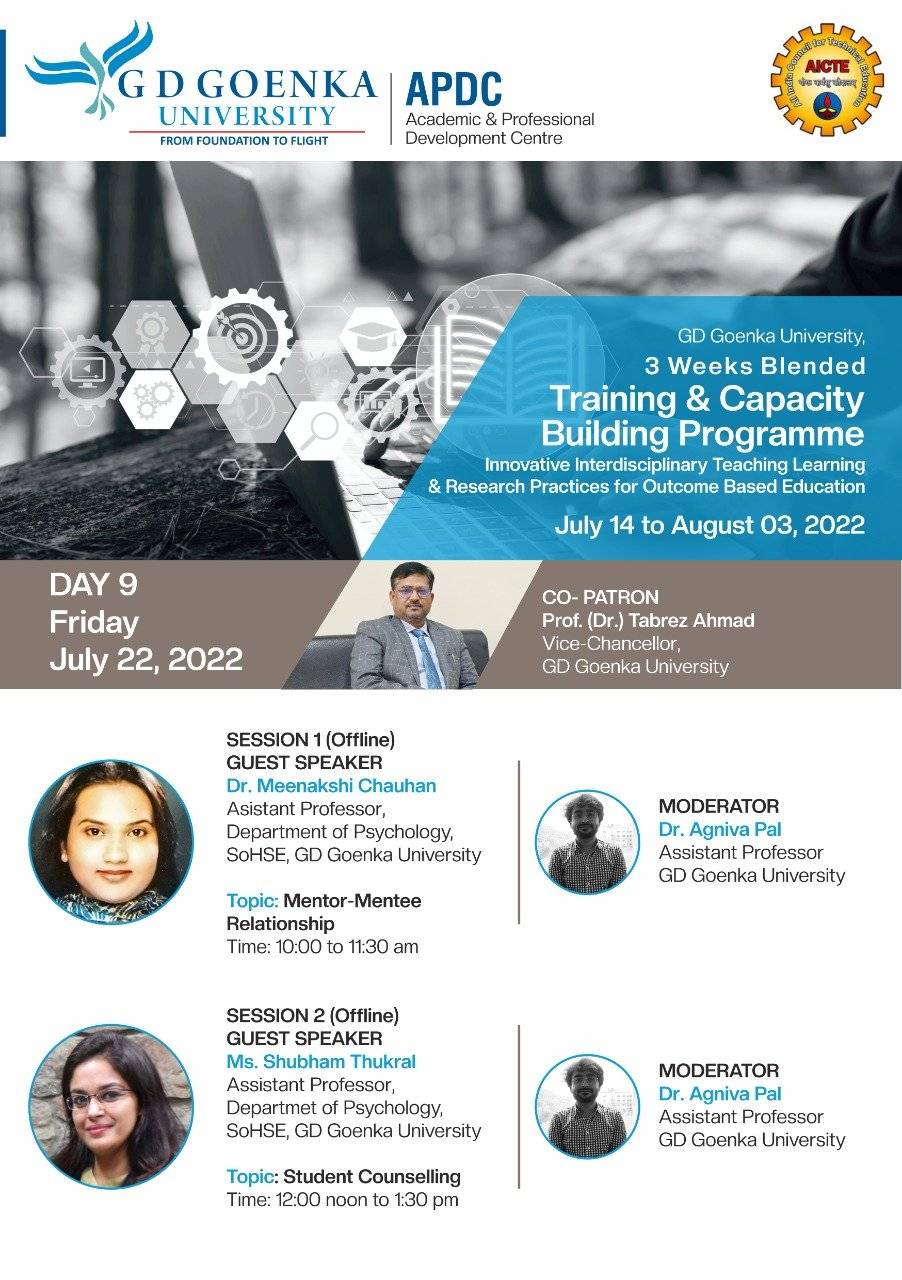 Placement Expert

Talk to Expert