Dr. Aashish Sharma
Associate Professor, Pharmaceutical Chemistry
Qualification: B. Pharmacy, M. Pharmacy (Pharmaceutical Analysis), PhD
College/University: Mohan Lal Sukhadia University, Nirma University, Indian Institute of Science Education and Research, Bhopal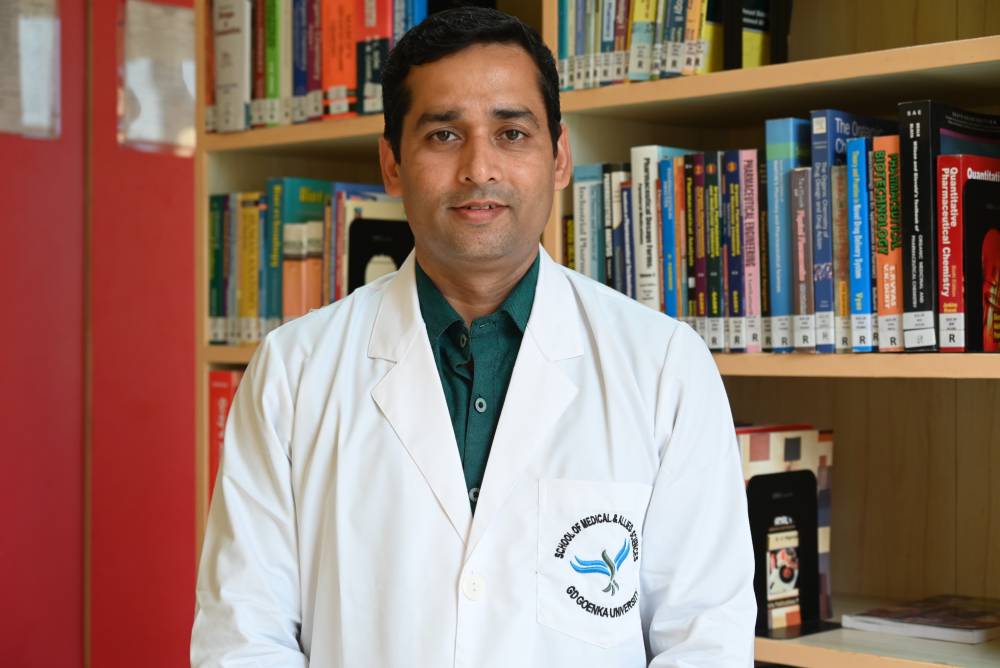 Introduction: Aashish Sharma is an expert in the area of Biomaterials and Bioadhesives with a background in Pharmaceutical Chemistry and Pharmaceutical Analysis. He has taught these subjects for nearly 6 years at universities such as the Geetanjali University (India), KR Mangalam University (India) and GD Goenka University (India).
Prior to taking up the current role in 2018, Aashish Sharma served in academic positionsas aLecturer (Pharmaceutical Sciences), Geetanjali University and as an Assistant Professor in School of Medical and Allied Sciences, KR Mangalam University (India). During his tenure at KR Mangalam University, he has been a member of Academic Council and Internal Quality Assurance Cell (IQAC) for NACC, Placement and Training Coordinator and Member of SRC (School Research Committee) of Pharmacy Department.
Aashish Sharma holds a PhD from the Indian Institute of Science Education and Research, Bhopal (India); M. Pharmacy (Pharmaceutical Analysis) from the Nirma University (India); and B. Pharmacy from Mohan Lal Sukhadia University (India). Presently, he is pursuing his Post-Doctoral studies National University of Ireland, Galway, (Ireland).
Publications (from 2015)
Scholarly Journals
'Emerging biomedical applications of polyaspartic acid-derived biodegradable polyelectrolytes and polyelectrolyte complexes', Journal of Materials Chemistry B, 7, pp. 2102-2122 (Yavvari, P. S., Awasthi, A. K.,Sharma, A.,Bajaj, A., Srivastava, A., 2019).
'Cell-Penetrating Synthetic Antimicrobial Polypeptides (SAMPs) Exhibiting Potent and Selective Killing of Mycobacterium by Targeting its DNA', Chemistry-A European Journal, 21, pp. 3540-3545 (Sharma, A., Pohane, A. A., Bansal, S., Bajaj, A., Jain, V., Srivastava,A., 2015).
Scholarly Conference Proceedings
Research Monographs, Books and Book Chapters 'Protein Quality Control in Neurodegeneration and Neuroprotection', Uddin, Md. S., and Ashraf, Md. G. (Eds.), Quality Control of Cellular Protein in Neurodegenerative Disorders, IGI Global, Pennsylvania, USA pp. 1-24. (Yasmeena, A., Nabi,J., Hamid,H., Tabassum, N., Pottoo,F. H. and Sharma A.,2020).
Research
Aashish's current research interests are focused on developing vascular (surgical) sealantsand adhesives for Vascular Closure Devices. For meeting his research interests, currently, he is working inSFI Centre for Research in Medical Devices (CURAM), National University of Ireland, Galway, Ireland, working on an industrial project funded by Boston Scientific.
Contribution to the Profession and Awards (from 2015)
Reviewer- Biomaterials, Publisher –Elsevier.
Certified Member: Laboratory Animal Safety and Training (LAST), Categories A, B, C, D, Species- Large Animals (Cert Number: 100867) according to article 23 and 24 of directive 2010/63 EU, National University of Ireland, Galway, Ireland, 2019.
Prominent Alumni Award-2019, Nirma University, Ahmadabad, Gujrat, India, 2019.
Placement Expert

Talk to Expert