Dr Manish Yadav
Assistant Professor
Qualification: D. Pharm, B. Pharm, M. Pharm, Ph.D
College/University: Hindu College of Pharmacy: Pt. B. D. Sharma University of Health Sciences, Rohtak.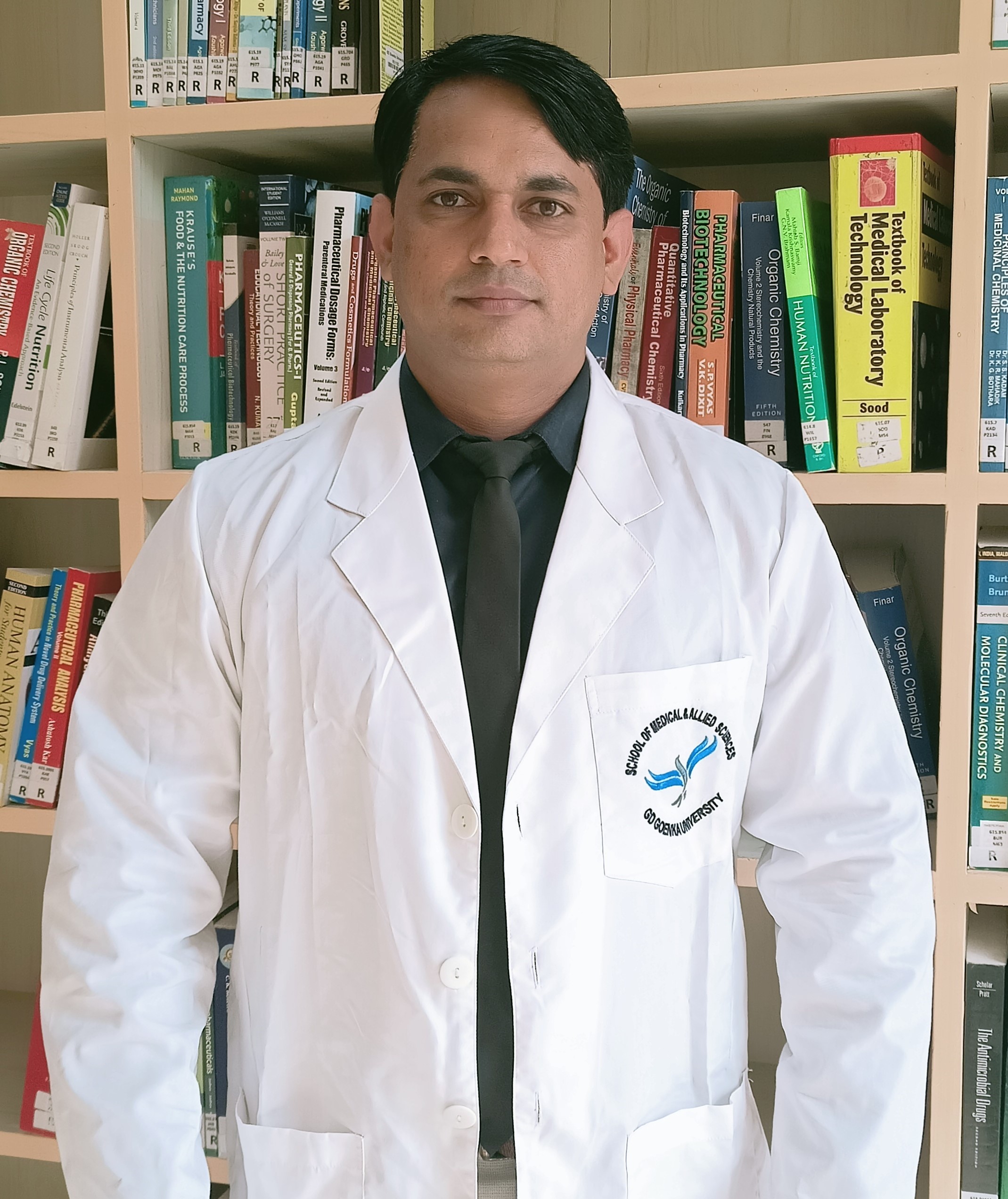 Introduction: Dr Manish Yadav is an expert in the area of Oral Control Release System (OCRS) (NDDS). He has started his carrier in 2011 as a Research Associate (R&A). He has published more than 17 research and review papers in various national and international pharmaceutical journals and dentistry journals of good repute. He has authored 02 books with National and International publisher. He has supervised 04 M.Pharm. students and Master of Dental Surgery (MDS) candidate. Dr Manish Yadav is CPCSEA Nominee (GOI) for the various pharmaceutical and biotech multinational companies MNC's (R&D), Medical College and Universities for the approval of animals for pre-clinical trials and research for development of medicines.
Dr Manish Yadav has 11 years in executive roles in large R&D and corporate such as Ranbaxy Research Laboratories (R&D) Limited, Gurgaon and WNS (MNC) Research & Analysis (R&A) leading Business Process Management in DLF Cyber Hub, Gurgaon. Prior to taking up the current role in 2021, Dr. Manish Yadav served in academic position as Assistant Professor at SGT (Shree Guru Gobind Singh Tricentenary) University, Gurgaon and Assistant Professor for the graduate and postgraduate courses offered at Jaipur National University, Jaipur. Currently, he is Assistant Professor Grade-III at GD Goenka University, Gurugram, Haryana
Publications (from 2015)
Scholarly Journals
Yadav Manish, Sharma K, Singh D. The Deleterious Health Effects of Aluminium: An Updated Meta Review. Biosc.Biotech.Res.Comm. 2021;14(1): 55-65.
Manish Yadav, "Design and Optimization of Microparticulate Reservoir Matrices for Combination Therapy", International Journal of Applied Pharmaceutics, Vol 12, Issue 3, 2020, 16-21.
Manish Yadav* Polymers for Transdermal drug delivery system [Degradable and Biodegradable] and different advancement in marketed formulation of TDDS, Indian Journal of Natural Sciences, Vol.12 / Issue 67 Kiran Sharma, Manish Yadav, Kavita Attri, "Pharmacognostic Studies on Methanolic Extract of Leaves of Vitex negundo Linn", Pharmacogn J. 2020; 12(3): 551-556.
Manish Yadav* A Noval Approaches of Brain Drug Delivery System, Indian Journal of Natural Sciences, Vol.12 / Issue 66 / June / 2021 Komal Saini, Priyanka Chopra, Amit Bhartwaj, Manish Yadav, Sachin Saini. Comparative clinical evaluation of two local drug delivery agents (Neem chip and Turmeric chip) in chronic periodontitis: an experimental study, World journal of dentistry Vol 12, Issue 2, 2021, 138-143.
Kavita Attri* ,Vijay Bhalla, Manish Yadav, Kiran Sharma, Novel Approach of Drug Delivery: A Transdermal Drug Delivery System , Pensee Journal. Vol 52, Issue 4, 2021: 1052-1074.
Manish Yadav*, B.Srivastava, Vijay Bhalla, Naresh Kalra, Kavita Attri, "Preparation and Evaluation of Ketoprofen-loaded Sodium Alginate Beads", Asian Pac. J. Health Sci., 2019; 6(1):199-205.
Kavita Attri, Manish Yadav, Sonika Shrivastav, "Nanoparticles: A Noval Approach for Targeted Delivery of Medicines", Journal of Drug Delivery and Therapeutics, 2019; 9(3):734-739.
Yadav M, Sharma P, Chaudhary V,. Srivastava B, Gastroretentive drug delivery systems: A promising approach", Indo American Journal of Pharmaceutical Research,2016: 6(4); 5225-5235.
Manish Yadav, " Formulation and Evaluation of Liquid crystalline nanoparticles of combination drugs of antimalarials: Preformulation part-I" SPER Journal of Pharmacy Research | Oct-Dec 2016 | Vol 1 | Issue 1 page no.11-17.
Daleshwari lohora, Kavita Attri and Manish Yadav, "Preparation and characterization of transdermal patch of repaglinide for the treatment of diabetes" SPER Journal of Pharmacy Research | Oct-Dec 2016 | Vol 1 | Issue 1 page no. 24-28
Research Monographs, Books and Book Chapters
Books
Manish Yadav & Ms. Kavita Attri, "Design and Development of Microparticulate Reservior Matrices", LAP Lambert academics publishing: ISBN- 978-620-2-52304-2.
Manish Yadav "Enhancement of Solubility of Lurasidone HCl", LAP Lambert academics publishing: ISBN- 978-3-659-90480-6.
Research
Manish's research interests encompass solubility enhancement, novel drug delivery systems (NDDS), drug delivery, nanotechnology and floating drug delivery system.
Placement Expert

Talk to Expert