Dr. Mohd Hafizur Rehman Ansari
Assistant Professor
Qualification: M. Pharm(ISFCP), Ph. D (Jamia Hamdard)
College/University: Kurukshetra University, Punjab Technical University, DIPAS (DRDO), CSIR (DST), Jamia Hamdard University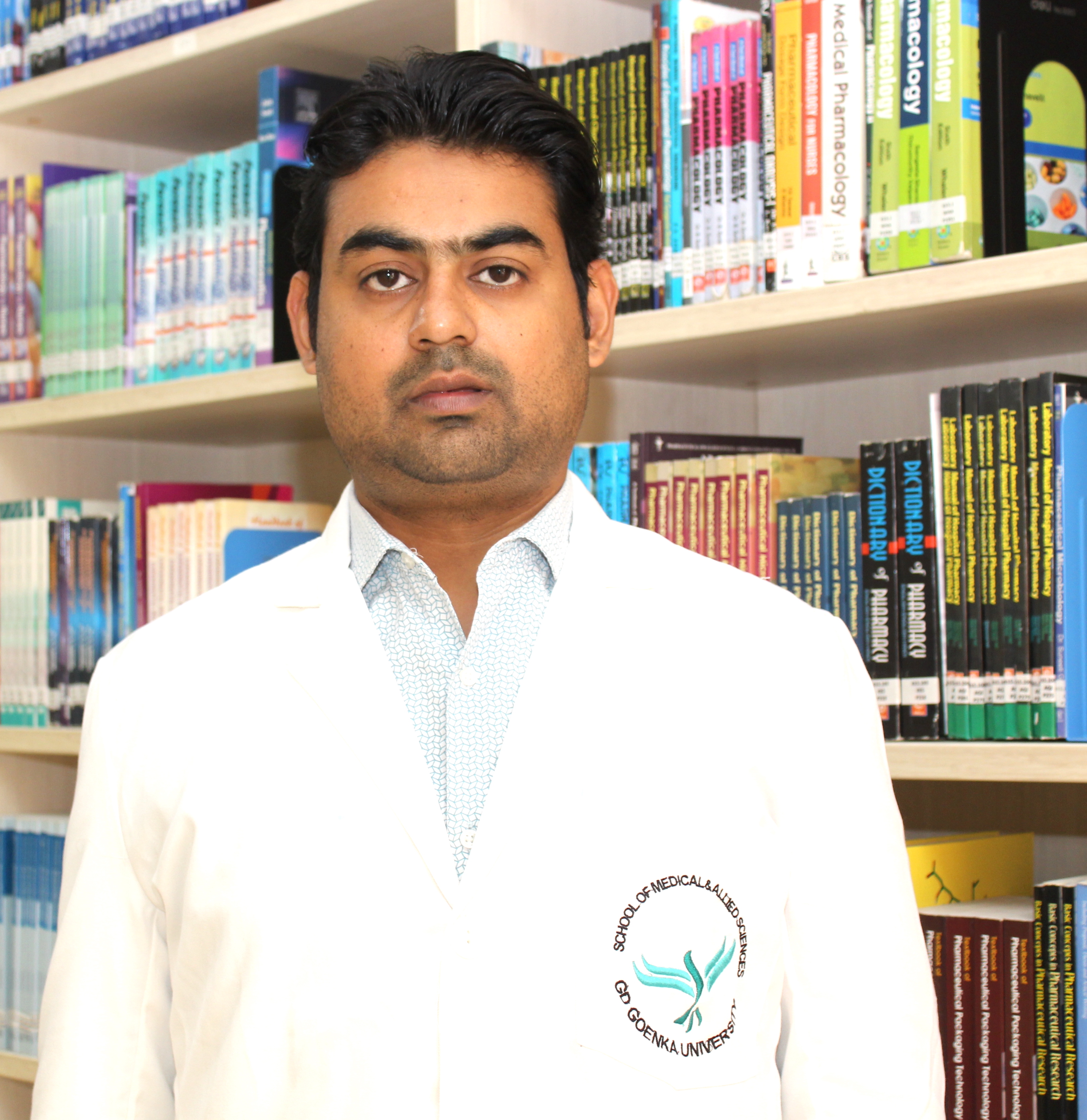 Introduction:
Mohd Hafizur Rehman Ansari have a combined experience in industry, teaching, administration, and research for a period of eight years. He is an expert in the area of Pharmacognosy and Phytochemistry. He obtained B. Pharmacy degree from Guru Govind Singh College of Pharmacy, Yamuna Nagar, 135001, Haryana, affiliated to Kurukshetra University, Kurukshetra, India. After completion of degree, joined as a Junior analyst of QA/QC in Biotechnology-based company (The Himalaya Drug Company), Dehradun, 248002, UK, India. With this tenure, he was actively associated with the standardization of herbal medicinal plants according to WHO guidelines.
He obtained the M. Pharm degree (Pharmacognosy, 2011-2013) from Indo-Soviet Friendship College of Pharmacy, Moga, 142001, affiliated to Punjab Technical University, Jalandhar,
India. For this PG degree considerations, he was screened in the student project programme of Punjab State Council for Science and Technology (PSCST) for completion of project dissertation. Later on, he was awarded by two best paper awards from international conferences. After the fullfillment of PG degree, joined as an assistant professor duty at Dwarka Das Mahant College of Science and Technology, Una, 177213, Himachal Pradesh from November 2014 to August 2016. He has handled the administration duties in DDM college of Science and Technology, Gondpur Banehra, AMB, 177213, Una, Himachal Pradesh for smooth conduction of semesters examination. He has handled several external examiners duties assigned from inter-institutional panel arrangement. During his coaching instructor tenure, more than ten GPAT coaching students were awarded the AICTE-based prestigious scholarship to get the admission in M. Pharm course.
Dr. Ansari, prior to taking a role at G D Goenka University, he has awarded the Ph. D degree (Doctoral supervisor, Prof. Sayeed Ahmad, In-charge, Bioactive Natural Product Laboratory,
Center of Excellence in Unani Medicine), Department of Pharmacognosy and Phytochemistry, and Head-Department of Food Technology, School of Interdisciplinary Sciences and Technology), School of Pharmaceutical and Research, Jamia Hamdard, New Delhi (2022). During this tenure, he has accomplished the two research-based opportunities under special scheme (CARS-Consultancy project), Project Assistant, Defence Institute of Physiology and Allied Sciences (DIPAS) and Extra-mural research funding-I as Direct-SRF, Council of Scientific and Industrial Research (CSIR), Ministry of Science and Technology, New Delhi, India. In 2018, he was awarded the CSIR-SRF with maximum tenure from extramural research division-I, CSIR, India. Furthermore, he was actively associated with many research projects of international repute from numerous funding agencies like CSIR, UGC, CCRUM, DABUR and others under the recognition of ' Phytopharmaceutical ' mission.
Dr. Ansari has published nine publications of national and international reputed journals and one in magazine FOOD CHROM + Poland. He has successfully achieved >50 google scholar citations and 411.2 API score. The domain is the development and enrichment of secondary metabolites fractions (especially terpenoids, lignans and others) from Ganoderma fungi and numerous medicinal plants with special reference to metabolomics and phytopharmacology considerations. With this research-based repertoire, he has published numerous papers in high impact factor journals in the field of phytopharmacology (like diabetes, cancer and antiurolithiasis), pharmacokinetics, system biology and in vitro to in vivo GCMS-LCMS based metabolomics approach. During his tenure, he has successfully organized 3rd One-day National Seminar HDFS-2017 and 7th International Congress of the Society for Ethnopharmacology, India as international conference SFEC-2020. After successfully completion of both the events, he has awarded the best LOC member by SPER at Jamia Hamdard, New Delhi, 110062, India.
Publications (from 2015)
Shweta Sharma, Mohd Hafizur Rehman Ansari, Kali Charan Sharma et al., Pyrazoline scaffold: Hit identification to lead synthesis and biological evaluation as antidiabetic agents. Future Medicinal Chemistry. December 2022. Accepted,

IF: 3.808

Mohd Hafizur Rehman Ansari, Sadia Saher, Rabea Parveen, Washim Khan, Imran Ahmad Khan, Sayeed Ahmad. Role of gut microbiota metabolism and biotransformation on dietary natural products to human health implications with special reference to biochemoinformatics approach. J Tradit Complement Med. April 2022. doi:10.1016/j.jtcme.2022.03.005

IF: 4.22

Mohd Hafizur Rehman Ansari, Washim Khan, Rabea Parveen, Sadia Saher, Sayeed Ahmad, Pharmacokinetic, metabolomic, and stability assessment of ganoderic acid H based triterpenoid enriched fraction of ganoderma lucidum P. Karst. Metabolites, 12(97), 2022: 1-14 doi.org/10.3390/metabo12020097 IF: 5.58

Bitasta Mandal, Swati Madan, Sayeed Ahmad, Arun K. Sharma, and Mohd Hafizur Rehman Ansari, Antiurolithic efficacy of a phenolic rich ethyl acetate fraction of the aerial parts of Aerva Lanata (Linn) Juss. Ex Schult. in ethylene glycol induced urolithic rats. Journal of Pharmacy and Pharmacology, 73(4). Oxford University Press, 2021: 560–72. doi:10.1093/jpp/rgaa071. IF: 3.76

Mohd Hafizur Rehman Ansari, Sayeed Ahmad, Herbs that heal: Natural remedies for health promotion and longevity. Annals of Phytomedicine, 8(1), 2019: 7-18.

Shabana Parveen, Mohd Hafizur Rehman Ansari, Rabea Parveen, Washim Khan, Sayeed Ahmad, Syed Akhtar Husain, Chromatography based metabolomics and in silico screening of Gymnema sylvestre Leaf extract for its antidiabetic potential. Evid Based Complement Alternat Med, Volume 2019, 2019: 1-14. doi: 10.1155/2019/7523159. PMID: 30723516; PMCID: PMC6339760. IF: 2.65

Ikshit Sharma, Washim Khan, Rabea Parveen, Md Javed Alam, Iftiquar Ahmad, Mohd Hafizur Rehman Ansari, Sayeed Ahmad, Antiurolithiasis Activity of Bioactivity Guided Fraction of Bergenia ligulata against Ethylene Glycol Induced Renal Calculi in Rat. Biomed Res Int, Volume 2017, 2017: 1-11. doi: 10.1155/2017/1969525. Epub 2017 Mar 2. PMID: 28349055; PMCID: PMC5352974. IF: 3.25

Yasmeen Khan, Hafizur R. Ansari, Rinki, Rishika Chauhan, Ennus T. Tamboli, and Sayeed Ahmad, Comparative gas chromatography-mass spectroscopy, fourier transform infrared spectroscopy, and high-performance liquid chromatography analysis of essential oils extracted using 4 methods from the leaves of Eucalyptus globulus L. Drug Development and Therapeutics, 7(2). Medknow, 2016: 81-86. doi:10.4103/2394-6555.191149
Magazine
Priyanka Bagri, Karishma Chester, Mohd Hafizur Rehman Ansari, Washim Khan, Sayeed Ahmad, A TLC bioautographic method for the identification of bioactive α-glucosidase inhibitors in Salacia oblonga, modern methods latest trends, Chrom food FORUM, Poland, 2017
Research direction
Analytical chemistry, Chromatography of natural products, Plant Metabolomics, Ethnopharmacology, Phytopharmacology, GC-MS and LC-MS-based Metabolomics, Pharmacognosy, and Phytochemistry
Work is in progress/Writing manuscript/Book chapters
In Silico Studies on lignans kobusin Compound isolated from Zanthoxylum alatum leaves: Tetrahydrofuran type lignans as Potential Multianti-angiogenic target Inhibitors in the progression of cancer
Bioactivity guided fractionation of GA-H based triterpenoid enriched fraction of G. lucidum P. Karst (Curtis): highly cytotoxic with in vivo anticancer potential to murine mammary adenocarcinoma model with DPP IV inhibitory status improved oral glucose tolerance
Molecular Descriptions of Fast Isolated Kobusin Lignan from Zanthoxylum alatum Leaves with Special Reference to Bioinformatics, Cheminformatics, Molecular Docking with Advanced Molecular Dynamics Simulation
Chemistry of fatty acids with their importance and analytical considerations
Role of Bio-fertilizers in sustainable Agriculture: For production and marketing strategy for India and global considerations
Awards and recognitions
Best poster award (APTICON-2011) conference
Best poster award (MPDDNP- 2015) conference
Outstanding LOC member in International conference (SFEC-2020)
Membership of Academic bodies
Member of "Society for Ethnopharmacology (SFE-INDIA)", membership no. [SFE/17/I-1025 (till 31, March 2018) and No. SFE/18/I-1335 (till Nov 30, 2023)], India
Peer Reviewer of Hindawi journal
Administration duties
Deputy Superintendent, Assistant Superintendent, Invigilator, and Centre Clerk
Examination paper setter
External examiner duties
Placement Expert

Talk to Expert