Dr. Vikas Jogpal
HOD
Qualification: Graduation, Post-Graduation in Pharmacology, PhD in Pharmaceutical Sciences
College/University: BSA institute of pharmacy, Kurukshetra University, MVN University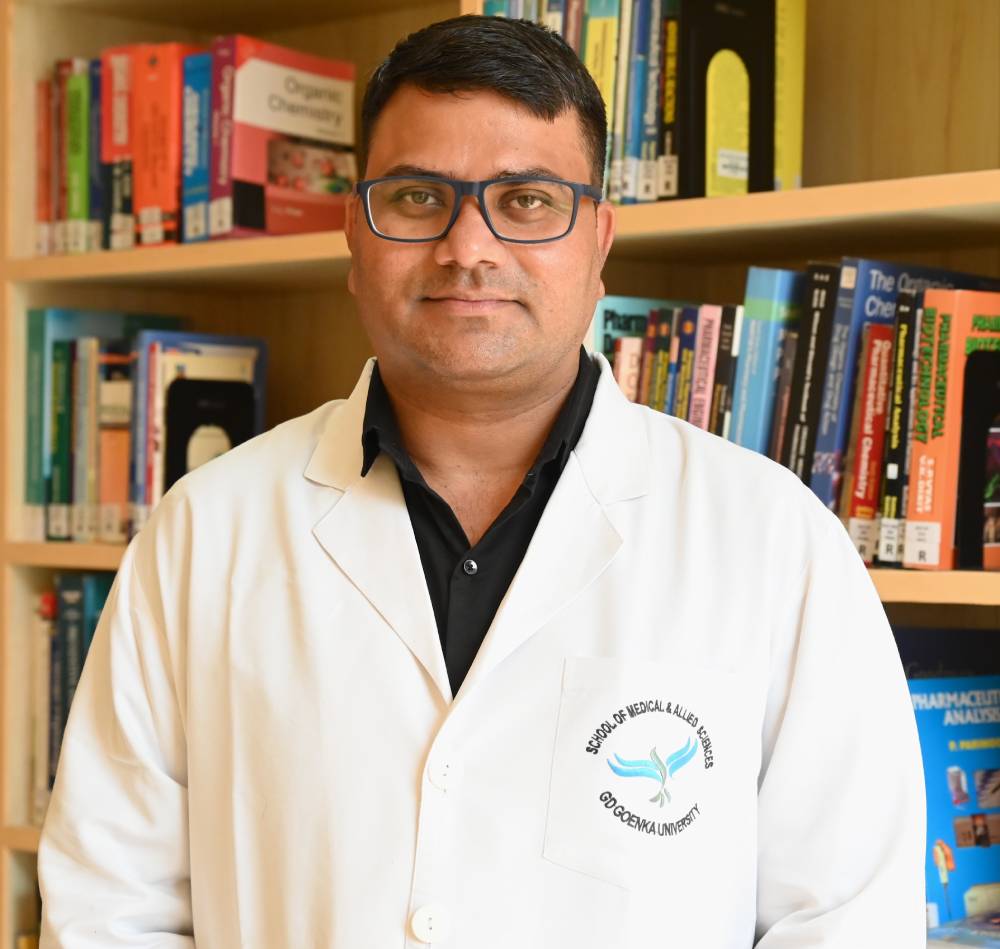 Introduction: Vikas Jogpal, HOD in GDGU has awarded his Ph.D. in Pharmaceutical Sciences from MVN University, Post-Graduation in Pharmacology from Kurukshetra University campus and Graduation from BSA institute of Pharmacy. He has more than 11 years of experience in academics, animal handling, and pharmacology instrument handling. He has more than 7 research/review papers published in impacted journals in his credit.
He has taught subjects like Human Anatomy and Physiology and Pharmacology for more the 10 years. He has taught these subjects as a lecturer in Bhawani Shankar Anangpuria Institute of Pharmacy, Faridabad, as an assistant professor in Advanced Institute of Pharmacy, Palwal and Modern Vidya Niketan University, Palwal.
Publications from 2015
'Comparative Evaluation of Fast Dissolving Tablet of Atorvastatin Calcium using Natural and Synthetic Super Disintegrating Agents', Research Journal of Pharmacy and Technology, 11(11), pp. 5001-5007 (Girish kumar, R.K. Khar, Tarun Virmani, Vikas Jogpal,strong> Reshu Virmani, 2018).
'Anticonvulsant Assessment of Alcoholic and Aqueous Extracts of Leaves of Shorea robusta', International Journal of Pharmaceutical Science and Review Research, 56(2), pp. 84-90 (Vikas Jogpal Jyoti Gupta, Tarun Virmani, 2019).
'Investigation of Antiepileptic Property of Sterculia Guttata Leaves', International Research Journal of Pharmacy, 10(8), pp. 96-101 (Vikas Jogpal,strong> Jyoti Gupta, Tarun Virmani, 2019).
Conference Proceedings
"6th world congress on nanomedical sciences" organized by Jamia Hamdard University and University of Delhi (ISNSCON 2018) at Vigyan Bhawan, Delhi on 7-9th Jan 2019.
Research Monographs, Books and Book Chapters
'A text book of human anatomy and physiology', Vikas Jogpal,strong> Tarun virmani. Jyoti Gupta, Unnati Publications, ISBN no-9789384875251, 2018.
Research
Vikas Jogpal's area of interest in research domain is cardiovascular, wound healing and neurological field.
Contribution to Profession and Awards (From 2015)
Reviewer at Journal of Engineering and Science Research (IJSER)
First prize in oral presentation at RAPCS, Meerut in national conference organized by DCM Edutech on 5th Oct 2017.
Leading Young Pharmaceutical Researcher Award by Golden Global Health and Education award in the category on 7th Sept 2019, Contribution to Pharmaceutical research from Social Talks.
Innovative Pharmacy Teacher Award from Integral Technical Society, Haridwar on 17th Jan 2020.
Current Research
Placement Expert

Talk to Expert