Ms. Kirti Sharma
Assistant Professor- PHARMACY
Qualification:
College/University: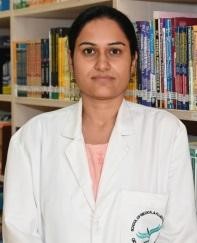 Introduction:
Ms. Kirti Sharma has sound exposure of varied assignments ranging from e-teaching modules, value-added courses, and research in medicinal chemistry.
Professional Experience:
More than 5 years of experience in teaching and research and 2 Years of Industrial experience of chemical research development.
Awards & Accolades:
Secured 3rd Position in 3-MT Presentation competition, organized by SGT College of Pharmacy, SGT University, Gurugram, Haryana on June 16th
Secured 3rd position in an oral presentation on the topic "Various Biological Activities Possessed by Quinoline fused Heterocycles" in a conference organized by IPGA, State branch Uttarakhand at Rajkamal Science & Management College, Haridwar on 4th December 2021.
Got 1st Position in a Poster presentation on the topic "Environmentally benign approaches for the synthesis of quinolone & quinoxalines- Novel synthetic methodologies" in the International Conference.
Current Research
Kirti's current research interest encompasses Environmentally benign approaches for the synthesis of Quinoline and Quinoxalline derivatives.
Placement Expert

Talk to Expert